STOP ! Check to see if your UK postcode has been recently assessed
(new UK post codes are added regularly)
We provide a unique building survey which analyses localised commercial and private aircraft volumes and then assess their likelihood of creating a noise or visual disruption for any UK post code. We work with the community when evaluating suitable locations as buyers, sellers, renters, holiday makers, or investors.
Our Assessment is the result of analysing hundreds of thousands of data points and also thousands of pounds of IT investment and know-how.
New surveys requests from £10 (incl. VAT ).
Our aim is to publish an Aircraft Assessment within 2 hours

from the time the *survey completes.

* Standard aircraft survey only.

Assessment bands

NONE
MINIMAL
OCCASIONAL
FREQUENT
VERY FREQUENT
HIGH
VERY HIGH
We also include related articles that describe some of the causes and patterns of aircraft disruptions in the UK, such as flight paths, flight corridors, flight routes and flight holding stacks.
Getting started.
Email us at: sales@aircrafttrafficsurvey.com or by call: 07940 700031 with your preferred survey choice and also your UK postcode. See menu option "Request a Survey" to see the full range of offered surveys.
We then electronically configure the survey with your preferences and Email back your unique and unanimous Survey Identifier. No personal data is saved on this Web site.
Within 30 minutes of your survey completing your survey details will be published on this Web Site using your unique Survey Identifier.
Who uses our service?
Home buyers wanting to

know

about possible Aircraft disruptions at specific locations e.g. by postcode, street, or plot.

Home sellers wanting to demonstrate to potential buyers their plot is

not

subject to excessive Aircraft noise or visual aircraft intrusion.

Local environmentalists and communities concerned about the growth of aircraft usage patterns e.g. flight holding stacks, arrivals and departures, in their area.

Builders and Developers when calculating the impact of the Aircraft "factor" on real estate plot values.
Finally, enjoy the dynamic and interactions wherever you see the Icon: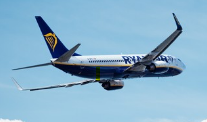 .